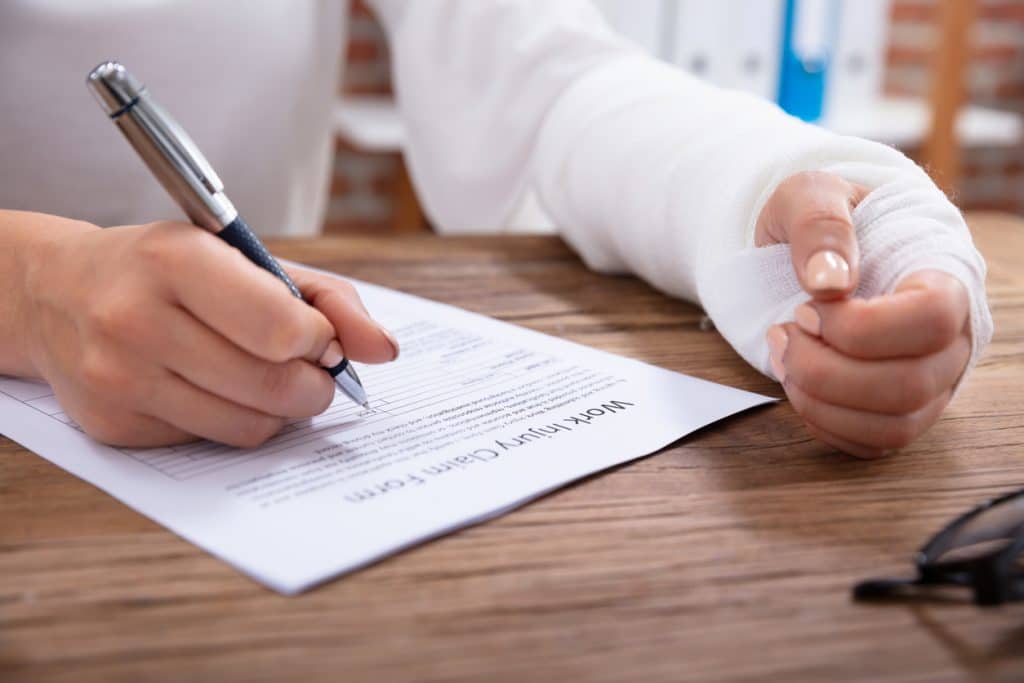 WHAT IS PERSONAL INJURY?
Personal injury is the physical or psychological injury that you suffer as the result of negligence, gross negligence, reckless conduct, or intentional misconduct of another person, entity, or organization.
Many incidents involve personal injury: when a careless driver hurts either you or members of your family; when you have a work accident; when you slip and fall in a public space, or when you are injured due to a defective product or a defective pharmaceutical. These are all instances of personal injury.
INSURANCE COVERAGE
When someone suffers a personal injury, they can file a claim for compensation under a state's personal injury law. If successful they can get compensation either from an insurance company or if there is no insurance directly against the at-fault party. However, very few claims are brought against the at-fault party when there is no insurance. This is because collecting from an individual is difficult and often distasteful for the client.
At trial, no evidence of liability insurance is allowed to be discussed. This is apparently because the courts do not want the evidence of insurance to result in the jury awarding more money than they would if there was no insurance. Unfortunately, the jurors may conclude that there is no insurance because it is not being discussed. Ideally, the jury should base their judgment on the facts without regard to insurance.
The insurance company who is valuing the case will provide a lawyer for the alleged at-fault party, pay for the lawyer, any litigation costs, and pay any settlement or judgment up to the policy limits of the insurance coverage.
WHAT IS A PERSONAL INJURY ATTORNEY?
A Personal Injury Attorney is a lawyer who practices in what is called tort law, or injury law. They are experienced in representing injured persons by making a claim or filing a lawsuit against all responsible parties.
YOUR CHANCES OF GETTING ADEQUATE COMPENSATION ARE MUCH HIGHER WHEN YOU HIRE A PERSONAL INJURY ATTORNEY
Although most people hire or "retain" an attorney, you are not legally required to hire an injury lawyer to handle your personal injury claim. You can file the claim yourself and you can even represent yourself in court.
However, many studies show that your chances of winning your case and getting the compensation you deserve are much higher when you are represented by an injury lawyer. Studies vary and the comparison depends whether the analysis is before filing a lawsuit, after filing a lawsuit, if the matter goes to trial or if it is tried and appealed. However, a study by the Insurance Research Council found that settlements were significantly higher when claimants were represented by a lawyer.
There are obvious reasons for that, but an experienced personal injury attorney knows the procedures and legal hurdles, knows how insurance companies work, is aware of experts on a variety of subjects who can testify when needed, can evaluate which compensation is fair, know when you should go to trial, and has your best interest in mind unlike the other parties involved.
WHAT ARE THE BENEFITS OF HIRING AN INJURY ATTORNEY?
Here are the most important benefits you get from hiring a personal injury attorney:
GET THE FACTS STRAIGHT FROM THE START
When you have an accident, you may be too injured or confused to know how to handle the situation. Getting medical attention takes precedence and your family will, naturally, give priority to that rather than getting the accident facts straight.
An experienced lawyer knows what you have to do right after the accident. They will start investigating the accident immediately to secure evidence, contact witnesses, and gather data before it is lost.
An injury lawyer will help you prepare a solid case from the beginning, to avoid any allegations that your injury pre-existed or is not serious. For example, your lawyer will go through your medical history and medical records with you, identify any points that the insurance company might raise against your case, identify witnesses, do legal research and, if necessary, obtain an expert opinion.
GET THE RIGHT MEDICAL ATTENTION
An injury lawyer who gets involved in your case early on will encourage you to get the right kind of medical attention, while also explaining the legal implications. This is especially important to avoid a "gap in treatment" that insurance companies may argue justifies a lower settlement offer.
Indeed, many accidents can cause injuries that either are not immediately visible or that don't look as serious as they may turn out to be. After a car accident, for example, you may not go to the hospital immediately. However, you may later realize that you are suffering from internal trauma, concussion, whiplash, neck and back injuries, etc.
An injury lawyer will advise you on how to timely document your medical injuries to get fair compensation for them.
FACE THE INSURANCE COMPANY AND NEGOTIATE
The process involved in filing a personal injury claim is much more complicated than an insurance company would like you to believe. The simple truth is that an insurance company will defend its own interests. They will offer a minimum amount for your injuries and hope you take it and go away.
Many policyholders will take the offer of an insurance company believing it to be all that is available and sign off their rights for reasonable compensation. This is because they lack the knowledge, training, and experience necessary to negotiate a fair resolution
Hiring an experienced personal injury lawyer ensures that the insurance company treats your claim seriously. Your lawyer will handle the communication with the insurance company, minimize your stress, and seek full compensation for your injury.
To put it very simply, the insurance company will provide and pay for an experienced lawyer for its insured at-fault person. Why shouldn't you also have a lawyer who takes your side?
GET ACCESS TO EXPERTS
When claiming compensation for medical bills or other damages, the injured person is regularly asked to prove that the claimed injury did not exist before the incident. Thus it is essential to have access to experts who can state this is a new or different injury and thereby justify and support your claim.
Experienced injury attorneys can locate experts that will work on your case, while you may lack the resources to hire good experts to prove opinions on liability and testify to the severity of the injuries sustained.
GET YOUR CASE TO THE COURT IF NEEDED
Experienced personal injury lawyers know when and how to take a case to trial. Since they have experience with all the major insurance companies, they can assess whether an insurance company will pay more to settle a case rather than spend money on its attorneys and experts and risk losing at trial.
You may also face a case where the at-fault party does not appear to be insured or falsely denies that he/she is insured. In this case, a lawyer will help you take the case to court if needed and collect a judgment if successful.
DO YOU HAVE TO SUFFER A SERIOUS INJURY TO HIRE AN INJURY ATTORNEY?
Technically no. However, since attorneys usually get paid a percentage of what they collect, they normally cannot take a case that will cause them to lose money, even if they prove fault. Likewise, the clients will want to avoid pursuing a case where they cannot establish that their injuries were someone else's fault. Insurance companies only pay when their insured is clearly responsible for injuries or is determined by a court to be responsible for another's harms and losses.
Hiring an injury attorney is vital when there is serious injury or death involved. These cases can become complicated very quickly. Since the amount of a possible verdict is larger, the case is put under extra scrutiny. More documentation, expertise, proof of fault and proof of resulting harms and losses are required. Therefore, the involvement required becomes too demanding for a plaintiff to handle on their own.
However, in less serious cases, hiring an injury lawyer offers you all the benefits mentioned above, thus ensuring better compensation and shorter delays. It is easy to get lost in paperwork and procedure and miss the statute of limitations. It is also easy to overlook a legal requirement that a lawyer might immediately detect.
WHAT TYPES OF PERSONAL INJURY CAN REQUIRE AN INJURY LAWYER
All types of personal injury cases can be brought by an injury attorney. Here is a list of the most common types of personal injury. Please note that the list is not exhaustive. There are many other causes of personal injury, for example, dog bites and bad faith claims against insurance companies where they deny valued claims or delay payment on valid claims.
CAR AND SEMI-TRUCK ACCIDENTS
These are the most common personal injury cases in the United States. Car accidents are due either to a driver who is not following the traffic rules or a driver who drives carelessly. The at-fault driver or his/her employer is held responsible for injuries from the accident. Trucking accidents are particularly difficult because the trucker may be driving too long, breaking company rules or forced to drive when he/she unfit to be on the road.
SLIP AND FALL ACCIDENTS
These are also very common. They occur when there is a dangerous condition on the premises of a business or public place, such as a grocery or department store. These public places must keep their property reasonably safe and free of hazards. The owner's specific liability depends on the language of state laws.
WORK ACCIDENTS
These personal injuries occur in the workplace. They are often due to the employer not ensuring safe work conditions or not enforcing safety measures.
This type of personal injury can also include industrial disease claims, where a person claims compensation for medical treatment bills for a disease caused by the working conditions.
In the United States, most injuries occurring at work are compensated through a no-fault workers' compensation system. Therefore, a workplace incident is compensable even if the worker who was injured in the course and scope of his/her employment was negligent.
PRODUCT LIABILITY AND MASS TORTS
This is an injury to a person due to poorly manufactured products, such as safety features on a car or off-road vehicle. Mass Torts or Multi-district litigation are brought when a pharmaceutical drug or appliance, such as a drug that causes severe side effects or a defective artificial hip or knee, which causes harm to many people who use or obtain the product.
WHY AN INJURY ATTORNEY COULD DECLINE A CASE
There are a few cases where a person with a personal injury can have difficulty finding a personal injury attorney.
This usually happens when a case comes with a high risk of loss. Personal injury attorneys almost always get paid a percentage of the settlement or judgment. For this reason, some may decline to take such cases when compensation seems improbable. This is because the law firm could work for many months without getting paid. Furthermore, the law firm would be advancing costs on the case and pay staff for working on the case when there would be no recovery.
Here are some factors that may cause an injury attorney to decline your case.
CASES WHERE LIABILITY IS NOT REASONABLY CLEAR
When the other party is not at fault, when fault cannot be proven or when harms and losses cannot be connected to the incident, an injury attorney will decline to take the case and advise the plaintiff that the claim probably should not be brought.
CASES WHEN THE PLAINTIFF WAITED TOO LONG
A delay in hiring a lawyer may be because the plaintiff was trying to handle his/her own case. Such delay could compromise the case and even result in costs being awarded to the opposing party.
Waiting too long means that the plaintiff has wasted valuable time and may not be able to bring the case because of the statute of limitations. When the timeframe for proper investigation and legal action is too short, a personal injury claim has less chance of success.
COMPLICATED CASES WITH A LOW ANTICIPATED COMPENSATION
Some personal injury cases become too costly for the anticipated compensation.
Many factors can complicate an injury claim. The plaintiff may be a person of low credibility in the eyes of a court jury (drug use, criminal history, etc).
There may be multiple pre-existing conditions that make it difficult to prove that the accident caused an injury.
The at-fault party may be a governmental entity or a high-risk adventure which in certain situations may be immune from a lawsuit.
The defendant may be uninsured, bankrupt or the available compensation may be substantially reduced or eliminated by hospital liens which were incurred during treatment for the injury.
There may be state caps on recovery or processes that make a legitimate claim lack financial sense.
The case may be in a state where comparative negligence applies and there is significant negligence on the plaintiff's part.
When a case involves questionable fault, high costs or high probability for low compensation, it can be difficult to find an injury lawyer to who will accept it on a percentage fee and too expensive for the injured party to pay for a lawyer who bills by the hour.
CONCLUSION
The vast majority of personal injury claims caused by the fault of someone else are worth pursuing.
In any case, contacting a personal injury attorney carries no financial risk because consultations are generally free and the attorney gets paid only if and when you recover compensation.
If you suffered a personal injury and would like to schedule a free consultation, then please call 970-241-0707 or complete the online application found within the "Contact" tab at the upper right-hand corner of this page. The attorneys and the team of experienced legal professionals at Killian, Davis, Richter & Kraniak, PC are capable, polite, and understanding.